We are proud to announce our 18th annual Orlando Japan Festival! The festival will be held on November 4th (Sunday) at the Kissimmee Lakefront Park – 69 Lakeshore Blvd. Kissimmee, FL 34741. On stage, we will have performances including Koto, Iai, Judo, and Taiko drumming. For this year's special guest performer, we will have Japanese live brush painter, Mr. Yasunori Kimata. Shodo (or Shuji) is a Japanese form of calligraphy, also known as artistic writing. Mr. Kimata will write in live, using various brush strokes and movements.
Come out and taste the foods, enjoy the performances, and experience Japan before the Tokyo Olympics in 2020!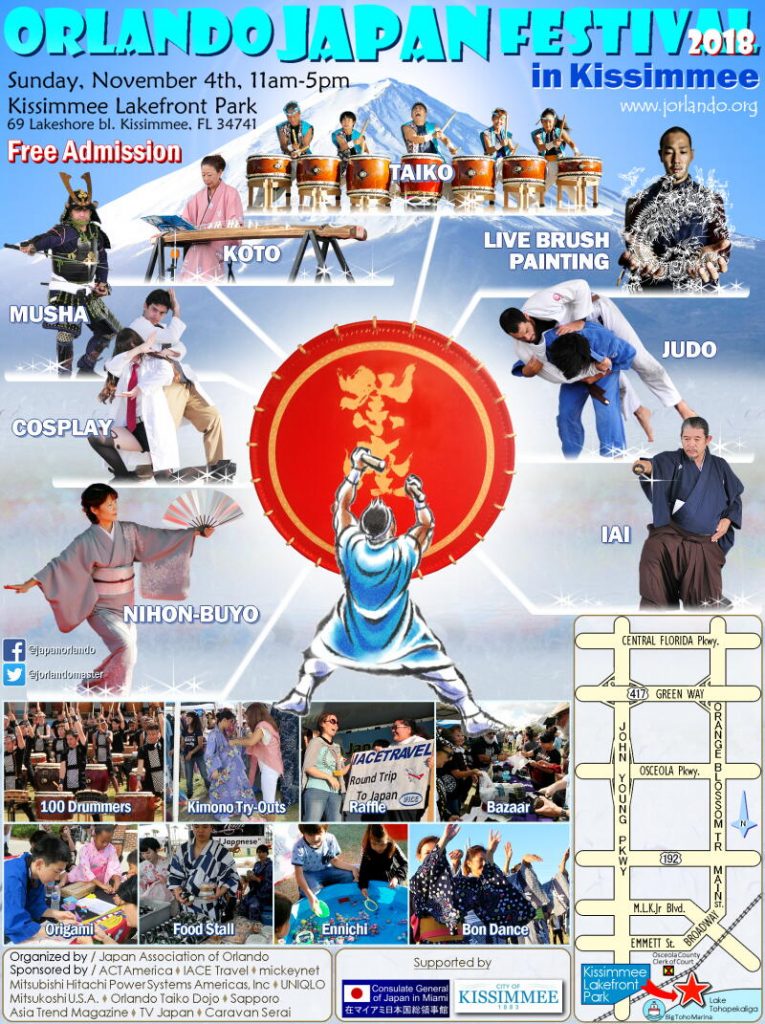 If you would like to take part in this event in any of the following, we greatly appreciate your warm support.
• Sponsorship: (by Organization or Individual in any amount) To receive Sponsorship Information Form, please contact us. Insertion of sponsoring organization or individual on the banner of the program.
• In-kind Donations for Raffle Prizes or for Sale at Booths: Please contact us about your donation. On the day of the festival, we will introduce the provider and the donations at the Raffle Booth and side of the stage.
• Vendor Booth: $150 per booth space (additional $100 to rent tent, table, and chairs)
• Food Vendor: If you are signing up for Food booth, please contact us.
• Volunteer: Any length of time (1 hour minimum) for attending booths, sale of soft drinks, and parking attendant.
**Please also complete the RELEASE FORM.
• Coplay Contest Form: If you would like to participate in the contest, please fill out the form and bring it on the day of the festival.