We are proud to announce our annual Orlando Japan Festival in Kissimmee! The festival will be held on November 17th (Sunday) at the Kissimmee Lakefront Park – 69 Lakeshore Blvd. Kissimmee, FL 34741. On stage, we will have performances including Koto, Iai, Judo, and Taiko drumming. This year, we will have a special collaboration performance with ballet and Taiko drumming.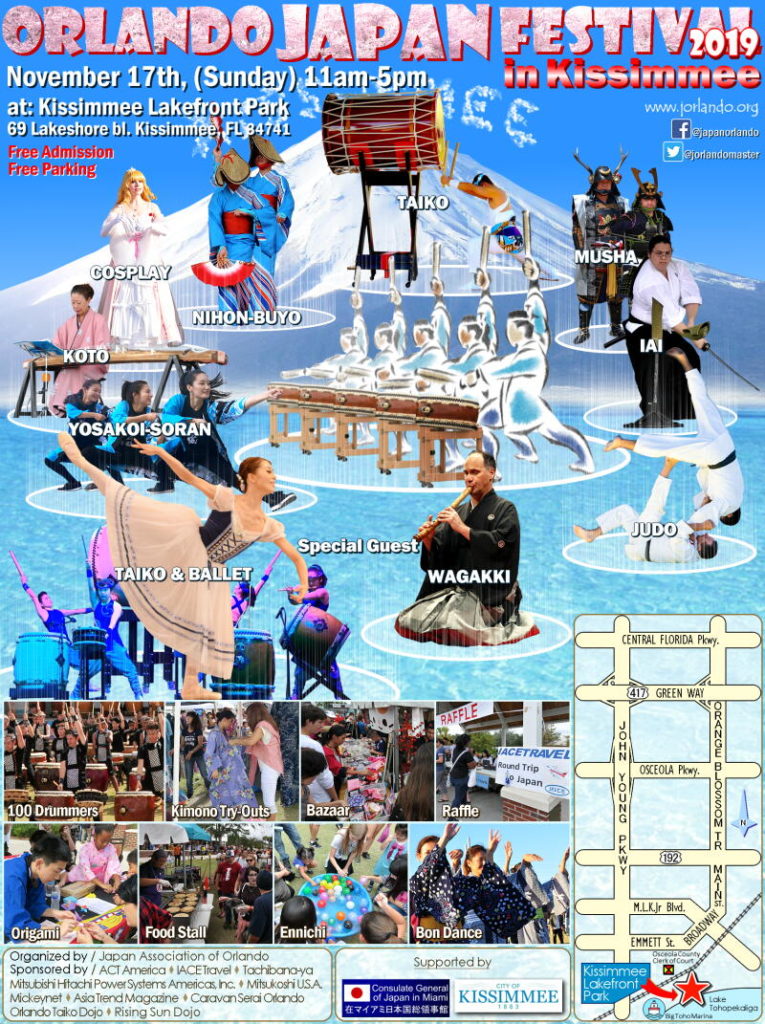 Come out and taste the foods, enjoy the performances, and experience Japan before the Tokyo Olympics in 2020!
Date: November 17th (Sunday) 11 am – 5 pm
Location: Kissimmee Lakefront Park
69 Lakeshore Blvd. Kissimmee, FL 34741
If you would like to take part in this event in any of the following, we greatly appreciate your warm support.
• Sponsorship: (by Organization or Individual in any amount) To receive Sponsorship Information Form, please contact us. Insertion of sponsoring organization or individual on the banner of the program.
• In-kind Donations for Raffle Prizes or for Sale at Booths: Please contact us about your donation. On the day of the festival, we will introduce the provider and the donations at the Raffle Booth and side of the stage.
• Vendor Booth: ORLANDO JAPAN FESTIVAL IN KISSIMMEE 2019 IS CLOSED FOR VENDOR REGISTRATION
• Volunteer: Any length of time (anytime, preferably 2 hour+) Ennichi booth / helping booth / setup of stage / set down of stage, etc.
*Please submit your Volunteer Request Form here.
*Please also complete the RELEASE FORM.
• Advertisement on Event Program: ORLANDO JAPAN FESTIVAL IN KISSIMMEE 2019 IS CLOSED FOR ADVERTISEMENT REGISTRATION
• Coplay Contest: If you would like to participate in the contest, please fill out the form and bring it on the day of the festival.
**We are currently working on the form**